Art of Restraint NYC
I've known Madison Young for a very long time.  She's been in a ton of my movies and I've shown work at her Gallery in San Francisco.  I sold my first framed photo at one of her exhibitions.  She's known for putting on interesting, kinky events. Art of Restraint is an event she's put on many times in San Francisco.  Last month she had her first installment of that event in NYC.  My schedule was super hectic leading up to the event.  I didn't have time to go by the venue to look at the space, I had no idea what kind of rig was going to be set up.  All the performers were expected to bring their own, so I was going to be at the mercy and the kindness of strangers or it was going to be a free form floor show.
Getting into the building was difficult, there was a list and one needed a password as it wasn't open to the general public;  it was a private, exclusive affair.  When we got upstairs, I entered a beautiful loft with girls in rope bras carrying hors d'oeuvres and serving wine.  It was classy, decadent.  Usually I can't stand bondage events.  It's a battle of male Doms trying to outdo each other – way too much ego and testosterone for one to breathe and enjoy themselves amidst the cock wars.  This event had a totally different vibe.  Each performance was different from the last.  There was at times symbolism, acrobatics, and a true passion for the rope.  Murphy Blue was kind enough to let us use his rig.  I tied Bella Vendetta and Lydia Lael in a two girl suspension that had their bodies wrapped around each other so that it was difficult to distinguish whose body parts you were looking at.  They became my spinning suspended centerpiece.  It was totally organic, unplanned, yet beautiful.  It was a proud moment.
Later Madison Young did a performance piece that was nothing short of brilliant.  She was suspended by her ankle (which if you don't already know, hurts like HELL), and was scrawling words on a large piece of paper while swinging.  Murphy Blue kept raising her leg higher and higher so writing became more and more difficult for her. She scratched and scrawled and contorted her body so her words would make their way out.  When she was near me she wrote "sex", "fuck", "me".  At one point she screamed, grabbed a clock and inserted it which could be interpreted as a biological clock ticking, though maybe that's just my interpretation since mine is
All in all it was a beautiful event. It was classy and artsy without being pretentious.  They plan to do it in NYC again in the spring, I hope to be among those doing scenes again!
Check out the pilot episode of "The Real Dommes of New York"
Based in NYC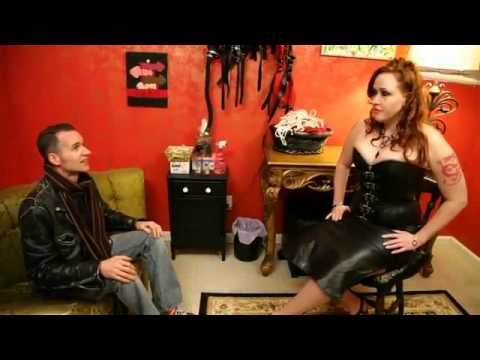 Nov 23-24 Washington DC
Dec 1-4 Chicago
Dec 5-9 Detroit















Custom Tattoo Studio, Downtown Amsterdam, The Netherlands. Dermadonna Custom Tattoos is mainly a Custom shop. 
This means as often as possible each piece is designed Individually for you, the Client. Although "walk-ins" are always Welcome, Dermadonna mainly works with scheduled appointments. Tele:0031(0)20-7736614  The first step is a...

read more

The Dark Tantra Tarot is a synthesis of sex, fetish and spirituality, created by Mark and Ruth Ramsden. Mark is an acclaimed author worldwide, with forty years tarot experience as a professional reader and therapist. Ruth's exceptional artistry brings the concept vividly to life, these are cards one can step inside.

read more





Archives